The Time is Now - The Takeover Networking Event (Recap)
By Patricia Rogers
A year ago, I stood in the crowd of artists on the lawn at Kelli Copeland arts, celebrating Valley Arts' tenth anniversary. It was right after I moved back to the Valley, and it was just the jolt I needed to jump back into things. To me, that was the end and beginning of a new chapter. After a rollercoaster year for the younger generations in Orange, it became clearer to me that it was time.
Later, as I sat at the community affair event back in March of 2015, I could not help but notice that it was a conversation that I have heard many times in the last five years. I want to hear from someone different and change that conversation, even just briefly. I was given a lot of power, responsibility and faith at a young age as a journalist. I know how significant this voice is. And to be honest, I am more interested in what my peers have to say, and in return, how can we give back to the youth and give them some hope.
After the RADICAL: Orange, youth-led mayoral debate in April, I saw that there is already hope there, and I wanted to engage more like-minded individuals to keep that momentum going. The idea for the Takeover kept becoming realer to me. I t was time to share what I was so passionate about. Why did this New Yorker move to New Jersey to make her dreams come true? And how can I encourage you to do the same?
Why did this New Yorker move to New Jersey to make her dreams come true? And how can I encourage you to do the same?
 
In the continued effort of emphasizing the surge in leadership, activism, community engagement and overall moves towards a different future, it was time to reorganize my peers, and invite others to the Takeover. Many people including chef Josh Hewitt and financial planner Kirkland Simon expressed interest in a networking event and, more importantly, connecting with other professionals. After a couple months of brainstorming and partnering up with other brands like Brittany Craig's food blog Britt Bites, the event began to take shape.
Normally shy and not one to volunteer to speak, I knew that I had to present what the future could look like in a clear and bigger way. Those who have been around know my passion for the Valley, but it is more than where I live. And it can be so much more if I bring others in that are smart, ambitious and already on their way towards entrepreneurial goals. How can I engage them fully?
In what became the Valley Girl presentation, I went back to notes I took while I was on the Valley Arts Neighborhood Marketing Committee last year. Myself and what they referred to as "influencers" in the Valley Arts District, joined and evaluated what we really have as far as this district. How do we define it? What makes it different and unique? This group included Patrick Morrissy, Mike Griot, Richard Bryant, Margaret Mikkelsen and more. I was honored to be invited to it and that my opinion on things mattered. And now it was time to share these thoughts for the Takeover.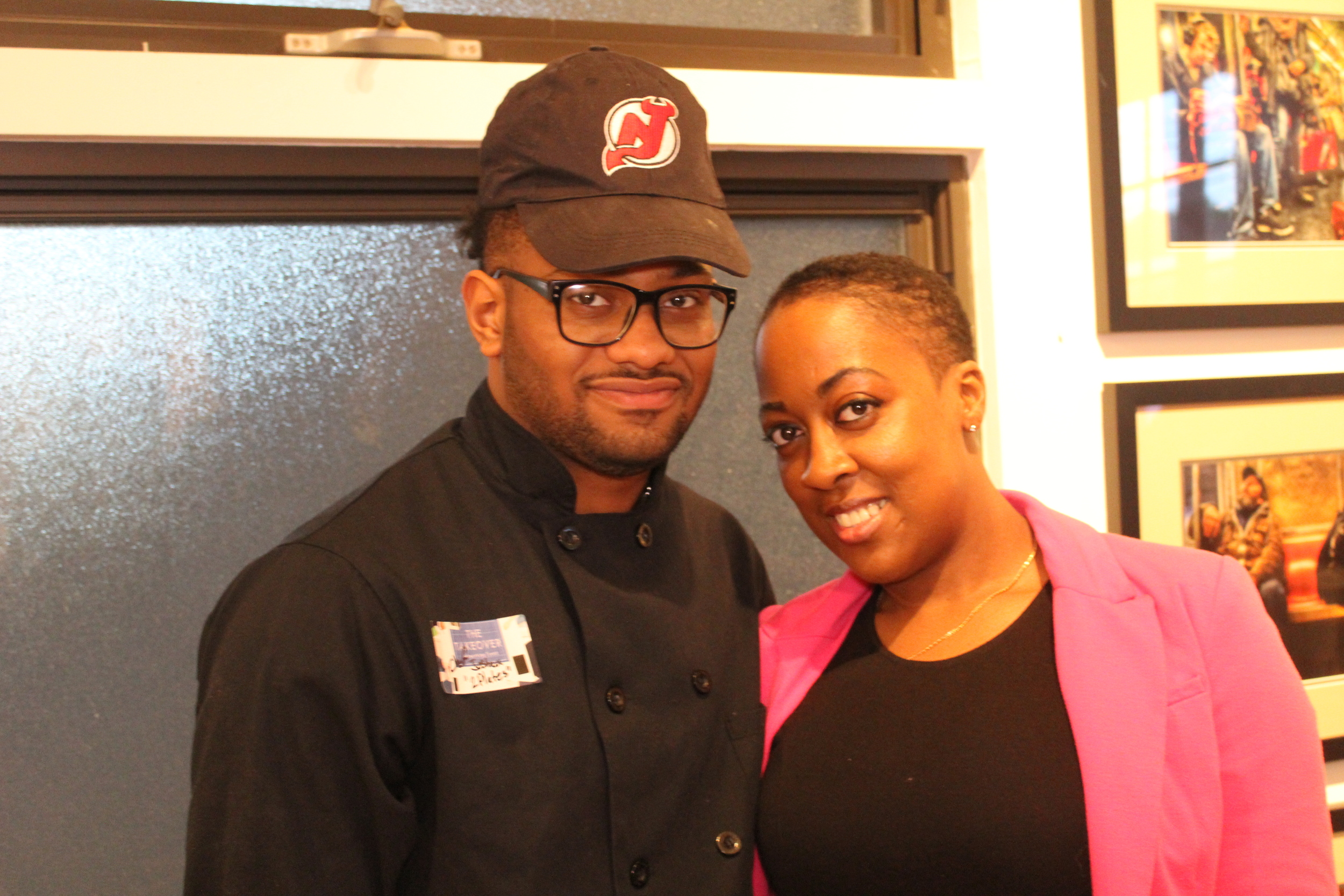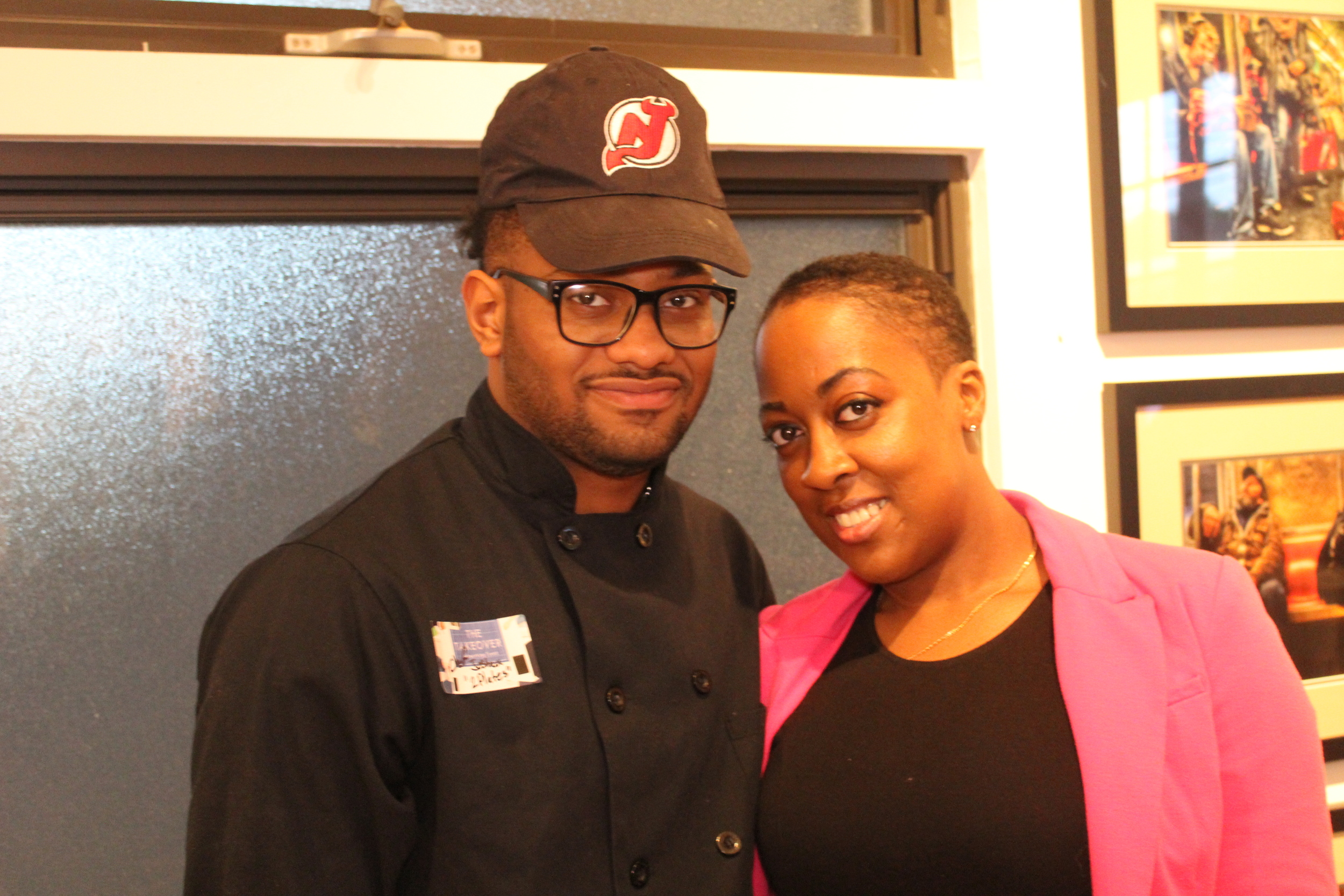 All photos by Sebastien Francois
Here we are, Monday, May 16, 2016, in the sun drenched Firehouse Gallery, the walls adorned with pieces from the annual group show Open Orange. I set up tables with markers, paper and presentation. I was nervous and so was Brittany, who was working with the chefs to set up an amazing menu. Diamond Wyche made delicious strawberry shortcake cheesecake bites. Those were a favorite, as she is the cheesecake chef extraordinaire. She represented her Cheesecakes by Diamond business.
Leticia Mcclendon paid tribute to the classic apple pie, with mini cupcakes, titled "An ode to apple pie." And they were delicious. She always blesses us with her pastry talents, and her brand Sugarcoated Affairs is always representing at the Valley Gala and Cupcakes and Champagne brunch. Then, there was Jeff Dorch of Dragon of the West 89 with smoked chicken dumplings that were so good, they went the fastest. The food was visually appealing, especially thanks to Josh Hewitt's watermelon feta skewers brushed with pesto.
What made this event really special and definitely the start of something new was the amount of new people there. I was able to truly introduce the Valley Arts District, the next "It" neighborhood, to young people.
Millennial Mondays is a monthly networking event hosted by Kirkland, Shanti and his friends, a group of Primerica financial educators. This was important because in a town full of artists, sometimes the money aspect of things is not given enough attention. Part of the presentation was a piece about finances and facts to think about, as far as our generation. They brought friends who were lawyers, and professionals outside of the arts, which was good to mix into the group.
Illustrator Mike Malbrough was able to say a few words that were very touching. He recalled a retreat that the artists of ORNG Ink emerging artist studio went on back in 2012. We went to a beach house on the shore, and he talked about how on that trip he learned that our generation may know what's up, that just as much as we learned from him over the years, he has learned from us. It was endearing having him and Molly Kaufman, who has been a support and mentor to us over the last six years, like Mike. It was important that they were there.
After lots of food and Nia's wild berry basil mojitos, it was time to get down to business. I shared my speech on the endless possibilities, leading into one of my other passions, the festival. After taking a road trip to Austin, Texas in March I realized how influential a good modernized festival can be. We went a week before the SXSW Festival in March, and the city literally felt like it was alive. There was so much going on, and after talking to Austin natives, and hipsters, it was clear. The annual festival had a lot to do with Austin's recent popularity. Our Air B&B host said people in the hundreds are moving to Austin daily.
The Valley Arts District has had a history with festivals, including V.A.M.P. Festival and the promising Hat City Streets Festival. Both no longer exist, which I think leaves an interesting opportunity for the millennials. Take back the festival! That was the group activity for the evening where I could really hear some people's ideas. Attendees broke into smaller groups and came up with ideas for a modernized festival that could transform the Valley.
During a crazy day leading up to the Takeover event, while running errands with Brittany, and Nia, she said this event is going to be better than any of us can imagine. And she could not have been more right. It was stressful up to every second, but it was all worth it. I think people got a lot from the experience. Shockingly, the newly reelected Mayor Warren made an appearance. That was a surprise, but I think a good follow up to RADICAL: Orange's debut at the debate in April.

For those who could not attend the event, I am working on releasing some of the presentation. You can sign up for our mailing list at www.masconsumption.com/thescene for more information.
What I hope can happen now, is to continue to engage the people that attended the event. Especially those who were new. Make sure I collaborate with them more for unique events to keep them interested and having fun. But most importantly, how can we bring back the youth of Orange. It is all a journey and work in progress. So let us continue to reach high.
About the Writer
Patricia Rogers, #ValleyGirlNJ, lives in New Jersey's Valley Arts District. The native New Yorker works as a writer, blogger and community activist. Starting Masconsumption Media in 2012, she has been passionate about capturing the stories of the vibrant up and coming Valley Arts District neighborhood through her blog, zine, events and more. She blogs for Jersey Indie, Luna Stage, and Hat City Kitchen and offers many creative media services. Visit her blog www.masconsumption.com and keep up with your favorite Valley Girl on social media at @valleygirl_nj (Twitter / Instagram).